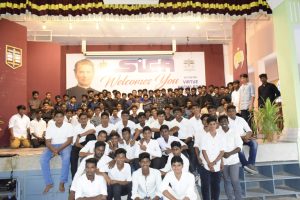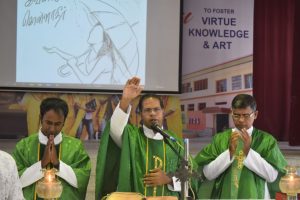 Freshers Day brings in cheer and enthusiasm in the minds of the newcomers when they are about to begin their journey towards a chosen career in their life.  The seniors in the college too are very anxious to know their juniors and wanted to do their best to make the newcomers feel at home.  It's a competition of sorts when the seniors started to practice for the cultural program to be held on the Freshers Day.
The much awaited Freshers Day began with a solemn mass by Rev. Fathers Rector, Principal and Vice Principal.  During the sermon Fr Rector highlighted to the freshers that they are blessed to get a place in SIGA and that they should remain grateful to God and also to their parents/guardians who have made many sacrifices for them to get their desired career.  Fr. Rector also emphasized that the students should make use of all the facilities provided to them and learn every day and come up in life.  He welcomed them all and wished them all the best for their careers through SIGA.
After the mass the freshers from various parts of Tamil Nadu, rural and urban, from different family backgrounds and lifestyle came together and were welcomed by the seniors of SIGA with a traditional drum beat to the Don Bosco Hall for a short cultural programme.
The event was mostly a kind of ice breaking to make the juniors and seniors gel with one another and make new bonds of friendship.  The football match between the freshers and seniors made it more easy for the boys to mingle among themselves freely as well as coordinate with a team spirit.  It was clearly visible when the freshers won the match with 1-0 score.  The winners were honoured with the traditional gifting of a plantain bunch by Fr Rector.
 When asked a fresher how he felt about Freshers Day, he said that he was a bit shy and had inhibitions initially in the campus and later he felt free and involved in the game with enthusiasm and that helped him gain a few friends on the very first day.  He also told that he was not homesick any more and enjoyed the day.